You can visit Discovery Garden already
Our Discovery Garden  – a private Pattaya Botanical Garden specializing in rare our widely unknown tropical plants – can be visited by appointment only. Just make sure you contact us well in advance before your planned visit. Demand is high and we only allow a few visitors in every day for a personalized guided tour that includes an introduction into chocolate making and tasting of fruits in season, jams, cakes and teas or our home made Guacamole.
Thai and English: 081 295 6227.
English, German, French: 081 844 1396.
Unannounced visitors will not be allowed into Discovery Garden.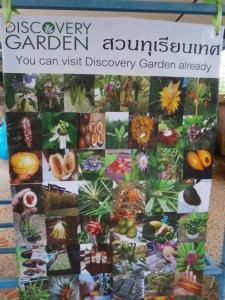 We are on Google maps, just enter "Discovery Garden Pattaya".
How to drive to Discovery Garden
On Sukhumvit Road – in direction to Sathahip coming from Pattaya – you pass the "Floating Market" and turn left at the next crossroad with a red light into Huay Yai Road.
After several kilometers you will see Huay Yai City Hall on the left, followed shortly after by Huay Yai Temple with its impressive roof on the right. You follow Huay Yai for another 2 kilometers and then turn  right into Huay Yai Chin Road, the road sign is written in Thai language only, but another sign shows: "Da Ne Vang", follow it, you are on track.
Very soon you cross over a bridge and shortly after (about 30 meters) turn left: There is another sign for "Da Ne Vang". After about 300 meters you have reached Baan Leelawadee (149/7 Moo 6) on the right hand side, two small stone elephants are posted there. Ring the door bell or if the metal gate on the left is open drive in there.
If you hire a taxi show the driver the Thai description. Discovery Garden is located about 15 kilometers outside Pattaya. Since there are no local taxis available in the area, make sure your taxi waits for your return ride.
If you have any questions call: 081 2956227.
GPS: N 12.86231, E 100.96929
การเดินทางมายังสวนทุเรียนเทศ
เดินทางตามเส้นทาง ถนนสุขุมวิท มุ่งหน้าสู่ อ.สัตหีบ (เลยพัทยา) เมื่อเลย "ตลาดน้ำสี่ภาค" ท่านจะเจอสี่แยกไฟแดงใหญ่ (แยกไฟแดงห้วยใหญ่) ให้เลี้ยวซ้ายมุ่งหน้าสู่ ถนนห้วยใหญ่  หากท่านตรงเข้ามาเรื่อยๆ ท่านจะพบสำนักงานเทศบาลตำบลห้วยใหญ่อยู่ด้านซ้ายมือ และ เลยมาอีกนิดก็จะเจอกับวัดห้วยใหญ่ ให้ท่านตรงเข้ามาเรื่อยๆ อีกประมาณ 2 กม. ท่ายจะเห็นป้ายเขียนไว้ว่า ซอยห้วยยายจีน ด้านขวามือให้ท่านเลี้ยวขวาเข้ามาในซอย  หลังจากนั้น เมื่อเข้ามาในซอย ท่านจะข้ามสะพาน และ ตรงไปอีกเล็กน้อย (ประมาณ 30 เมตร) ให้ท่านเลี้ยวซ้าย จะเห็นป้าย "แดเนอวัง" เมื่อเข้ามาประมาณ 300 เมตร ท่านก็จะมาถึง "B. Leelawadee" (เลขที่ 149/7 ม.6) อยู่ทางขวามือ มีรูปปั้นช้างหินเล็กๆ อยู่หน้าบ้าน ให้กดกริ่งประตู หากประตูเหล็กด้านซ้ายเปิดก็ให้ขับรถเข้าไป
หากมีปัญหาสอบถามได้ที่ 081 295 6227
ระบบ GPS  N 12.86231, E 100.96929
Wegbeschreibung zu Hans Fritschi, Discovery Garden
Auf der Sukhumvit Road Fahrtrichtung Sathahip fährt man von Pattaya kommend am Floating Market vorbei und biegt an der nächsten Kreuzung mit Rotlicht links ab in die Huay Yai Road.
Nach mehreren Kilometern sieht man links das Stadthaus von Huay Yai, dann folgt kurze Zeit später rechts der Huay Yai Tempel mit eindrücklichem Steildach: Von hier folgt man für zwei weitere Kilometer der Strasse und biegt dann rechts ab in die Huay Yai Chin Road: nur auf Thai angeschrieben, aber ein Wegweiser zeigt: Da Ne Vang, dem folgen.
Kurz danach überquert man auf einer Brücke den Bach und biegt dann  (langsam fahren) etwa 30 Meter später bereits wieder links ab (erneut dem Schild für Da Ne Vang folgen). Nach ca. 300 Metern befindet sich Baan Leelawadee (149/7 Moo 6) rechts, zwei Steinelefäntchen stehen vor der Einfahrt.
Bei Fragen bitte 081 8441396 anrufen.
GPS
N 12.86231′
E 100.96929′
Baan Leelawadee, 149/7 Moo 6, Huai Yai, Chonburi 20150