Soursop (Annona muricata) can easily be grown from seeds all over Thailand. The problem is to get really fresh seeds. And it can take a long time until you can harvest the first Graviola fruits. At Discovery Garden Pattaya we have fresh soursop seeds and seedlings for sale, but we also offer mature and marcotted trees that will typically bear graviola fruits within a year. We produce dried Annona muricata leaves as well.
What was first, the egg or the hen? Before you can start to grow your own graviola trees in Thailand you need some seeds. And those soursop seeds should be as fresh as possible. The best results you will achieve with seeds that come right out a fresh graviola fruit, nearly 100 percent should germinate.
At Discovery Garden Pattaya we carefully dry the wet graviola seeds, a process in which they change their color from black to light brown. After this we store them in a dry and cool place. If you buy graviola seeds through the internet, be aware of unreliable sellers: Dried soursop seeds older than 9 months will hardly germinate. We therefore only sell freshly dried seeds and recommend strongly to soak them in water for  24 to 48 hours prior to planting.
When an overripe fruit falls to the ground at Discovery Garden new soursop plants start to grow, that is all natural.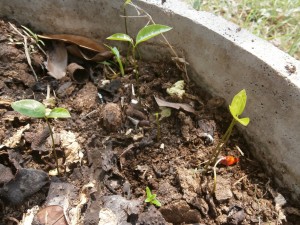 You can start your own graviola farm in Thailand or Laos by buying inexpensive seedling from our locations in Pattaya or Nong Khai. But it will take four to six years until you can harvest your first expensive graviola fruits and fresh leaves which can be dried. Dried soursop leaves from Thailand fetch very high prices.
A shortcut to your own soursop farm in Thailand may be to buy mature soursop trees or rooted plants which were produced through marcotting. Those graviola trees normally start to produce fruits within a year. You can always visit Discovery Garden Pattaya if in search of soursop seeds, seedlings, fruits, dried leaves or mature trees. If you have any questions, send us your inquiry: hansfritschi1957@gmail.com