Like so many mouthwatering things cashew nuts only came to Thailand after the Americas were discovered. At Discovery Garden Pattaya we grow cashew trees (Anacardium occidentale) which produce cashew nuts and also cashew apples that can be processed into delicious juice or jam. Cashew seeds and trees are for sale as well.
Peruvian Amazon region: When I saw my first cashew apple with the tiny seed in a hard shell at the end, I had no idea what this was. But naturally I bought a few fruits and tasted them. In South America the fruit is processed into a refreshing juice, sweets or it is distilled into liqueur. At Discovery Gardens Thailand we also produce a unique cashew apple jam.
Luckily I did not try to open the hard double shell surrounding the single seed since it is protected by a toxic fluid that can cause severe burns and allergic reactions.
Planted those seeds quickly germinate and propagate the evergreen tropical cashew tree (Anacardium occidentale). The cashew tree can grow up to 12 meters high and very wide in diameter.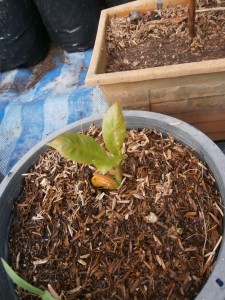 At Discovery Garden outlets in Pattaya and Nong Khai we sell live trees and seeds for Thailand, Laos and internationally.